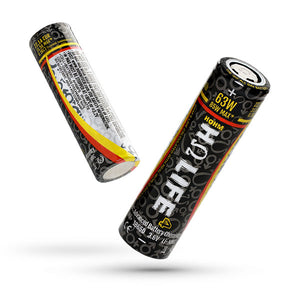 HohmTech batteries are viewed as some of the best batteries in the industry.
Please ensure your device supports 18650 batteries before purchasing. If you are unsure, please contact Vapours Canada Customer Service.
SPECS
Nominal Capacity: 3015mAh 

Voltage: 4.2V

Discharge: 22.1A
DISCLAIMER
WARNING! LITHIUM ION CELLS HAVE INHERENT RISKS IF MISUSED OR MISHANDLED. ALWAYS PRACTICE BATTERY SAFETY.
KEEP OUT OF REACH OF MINORS. DO NOT CARRY OR STORE OUTSIDE OF ITS PROTECTIVE PACKAGING OR A PROTECTIVE BATTERY CASE. DO NOT PUT IN POCKETS, BAG OR PURSE. POCKETS CONTAIN KEYS, COINS AND OBJECTS THAT CAN SHORT CIRCUIT A CELL (BATTERY) CAUSING IT TO EXPLODE. CELLS MUST BE STORED IN ITS PROTECTIVE PACKAGING OR A PROTECTIVE CASE AT ALL TIMES WHEN NOT IN USE. DO NOT USE A CELL WITH ANY DAMAGE TO ITS STRUCTURE OR OUTER PROTECTIVE LABEL (ALSO KNOWN AS A "WRAP", "SLEEVE" OR "SKIN").