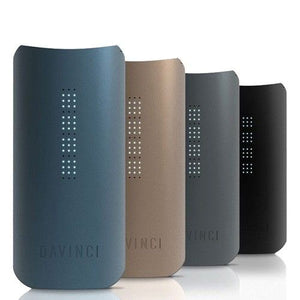 For use with dry herb cannabis only.

With the DaVinci IQ Vaporizer, DaVinci is staying true to their innovative legacy on perfecting the purest flavor a vaporizer can produce, DaVinci created a more powerful and smarter vaporizer, the IQ! A device built with high-quality materials, simply one of the most intelligent vaporizers you would ever come across. Get ready to experience vapor in a whole new way.

DaVinci IQ - New Smart Vape Features:
All Ceramic Air Path for maximum flavor
16 second vape heating time
360° Conduction heating
3 Hour battery life when Vaping
10-year manufacturer's warranty.
Bluetooth App technology with innovative "smart path" feature
Sleek design & haptic vibration
On demand boost mode for extra large hits
Battery can be swapped fast and easy
New to the DaVinci vapes, the IQ has a full display of 51 LED dots giving you a sophisticated feel while enjoying the purest vapor. With precision temperature control, you can craft your own vaping experience with temps ranging from 250-430° F. Using a 100% ceramic zirconia air path and only the highest quality materials, the IQ's mouthpiece allows users to draw out the purest flavor. The IQ is the only vaporizer that combines 3 different functions – Smart Path mode, Precision mode and Boost mode. The IQ's Smart Path Technology allows users to select 4 different temp settings, the device automatically sets the best temperature for the vaping session. Temperature is highly important within a vaporizer and the IQ doesn't forget that for a second, helping you create vapor and flavor that stands with the best of them.
Enjoy up to 3+ hours usage time with the IQ. Users can change batteries on the go with replacement 18650 batteries for extended vaping sessions. On-demand hit and energy saving abilities make this vaporizer perfect for all types of users. Enjoy sessions on the go, explore the countryside or hit up the peaks without missing a beat! Perfect for wanderers and adventurers as well as those who want to enjoy the sunshine in their garden at home, or with friends at a party!
With the IQ, DaVinci now has a phone app! This app-enabled device allows users to have full control over their sessions. Users would be able to turn on the vape, track the Smart Path usage and view other important information! All the data adds up to help you get the most of your vape, bringing your experience to the next level. Fine-tune your vaporizer to what fits you and your lifestyle, with ease!
DaVinci Vaporizer Canada - Specifications
Device Dimensions - 1.65" W x 3.54" H x 0.94" D
Device Weight - 5 oz
Battery - Rechargeable/Replaceable 18650 Batteries
Vaping on full charge - 3 Hours
Warranty - 10 Year
Includes USB Charging Cable, Alcohol Wipes, Chimney Brush, Keychain Tool, 10mm Adapter, Carry Can