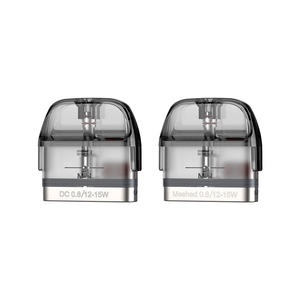 Introducing the Smok Acro Pods, the perfect replacement pods for your Smok Acro vape device. These pods are designed for use with the Smok Acro vape device and come with a 2ml e-liquid capacity. The Smok Acro Pods feature a top fill design and a bottom airflow control that allows you to customise your vaping experience. 
The Smok Acro Pods are made with high quality materials and provide excellent flavour production. The coil is built in so you don't have to deal with fussy coil changes. Simply fill your pods to get going. Each pod can be filled several times before it must be replaced.
Find 3 Smok Acro pods in each pack and choose from 0.8 Ohm or 0.6 Ohm to get the most out of your vaping experience. These pods match the performance and reliability you have come to expect with the Smok Acro device.
Compatible with: 
Pod types:
0.8 Ohm Mesh

0.6 Ohm DC MTL