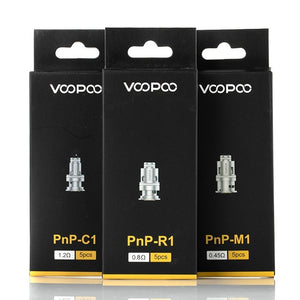 Looking for replacement coils for your Voopoo PnP device? Look no further than the Voopoo PnP coils, A PnP coil is a type of atomizer coil used for vaping. Voopoo's PnP coils can be used with both wattage mode and temperature control mods, making them versatile and convenient for vapers. 
Featuring a porous ceramic core, the Voopoo PnP coils provide excellent flavour and vapour production. So, whether you're a flavour chaser or a cloud chaser, these coils are sure to please. Making them one of the most popular types of atomizer coils on the market today.
These high-quality coils are designed for use with a wide range of devices. They deliver outstanding performance to the following devices:
Compatible with:
Vinci
Vinci X
Drag Trio Kit
Drag S Pod Mod
Drag X Pod Mod
Argus GT Kit
Argus Pro Kit
Voopoo PnP Pod Tank
Coil types:
0.15 Ohm Mesh (60-80W)
0.2 Ohm Mesh (40-60W)
0.3 Ohm Mesh (32-40W)
0.6 Ohm Mesh (20-28W)
0.8 Ohm MTL (12-18W)
1.2 Ohm MTL (10-15W)
Order your Voopoo PnP coils today and enjoy an amazing vaping performance!